mik_chat

Learn how to chat over the map, like popular MMORPGs

[More]
To download this demo for your Linux/Mac installation, enter this on your command line:
DreamDownload byond://Mikau.mik_chat##version=3
Emulator users, in the BYOND pager go to
File | Open Location
and enter this URL:
byond://Mikau.mik_chat##version=3
988 downloads
Version 3
| | |
| --- | --- |
| Date added: | Feb 18 2008 |
| Last updated: | Dec 27 2008 |
8 fans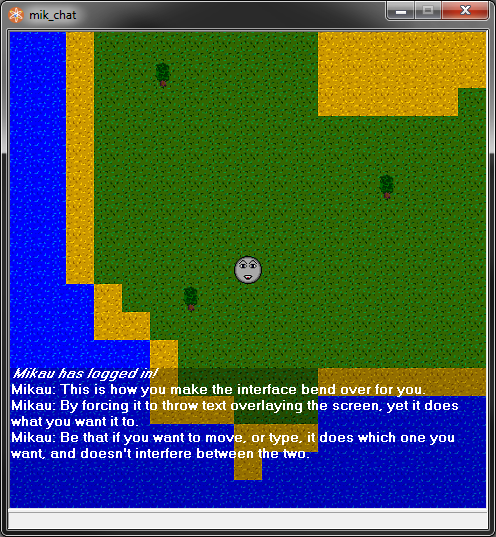 Using simple interface techniques, you can hover the chat from simple input and output windows over your map, to create the illusion of chatting on an MMORPG.

Version 2 is a much better working version of the demo. I've solved the problems of being unable to move while chatting, being able to move the backdrop, and being able to move the main window. I've also rewritten everything so that it's hopefully easier to understand.

Version 3 is version 2, apparently I never updated the files.
Copyright © 2020 BYOND Software. All rights reserved.