Tooltips

Extremely customizable map-aware tooltips

[More]
To download this library for your Linux/Mac installation, enter this on your command line:
DreamDownload byond://Wirewraith.Tooltips##version=3
Emulator users, in the BYOND pager go to
File | Open Location
and enter this URL:
byond://Wirewraith.Tooltips##version=3
97 downloads
Version 3
| | |
| --- | --- |
| Date added: | May 20 2017 |
| Last updated: | May 21 2017 |
5 fans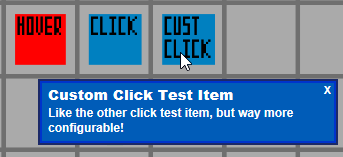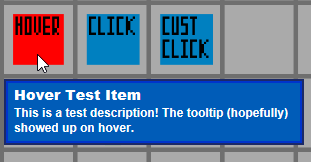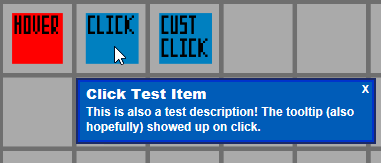 Hi hello here are some tooltips that heavily abuse browser controls to allow for an extreme amount of customization. With this library you can have tooltips appear either on object hover or click. By default they will auto-size according to content and clear themselves at any resize or player movement event, as well as auto-position within the main map area while respecting boundaries.

Included is a little demo world to try out the various flavors and settings, as well as two starter "styles" to showcase the UI customization (handled by CSS).

Oh and for actual usage, most of the documentation is in a code-block at the top of tooltips.dm.

Caveats:
- This is still fairly experimental so don't be too surprised if stuff gets JANKY.
- Due to Byond's continued reliance on IE for browser controls, it probably wont work in old IE versions (below 9 I believe).
- There are some confirmed reports of very rare bugs resulting in "squished" tooltips (auto-sizing not doing it's job) and equally rare stuck hover tooltips (mouseexit/mouseover events not doing THEIR jobs) that I'm still debugging.
Copyright © 2022 BYOND Software. All rights reserved.