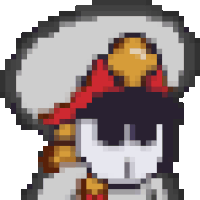 Hello World
What Do You Want In A Programmer?
Looking for a Competent Programmer with a professional attitude?
Want the code for your project to be well-built to the point where other Competent Programmers can manage the source?
Hate General Programmers providing sloppy, unorganized, and/or rushed code?
Want your project to be outstanding not only in Gameplay, but via code as well?
Tired of General Programmers leaving their unfinished mess of a job for some other poor soul?
Having problems with always hiring thieves that only want the bills in your wallet?
And/or looking for a better replacement?
Who Am I?
I, Deviant Coder, will gladly be of service.
I love to program, help, and develop. I program on a daily basis. Easily obtained my Associates in Computer Science and I am now pursuing my Bachelors.
Understand a handful of Programming Languages and useful Tools, DM (Dream Maker) being said language you're looking for.
Owner of the well known and widely used Icon Repository "Icon Bay" and many other useful Byond Libraries.
What Projects Will I Help With?
Original Projects:
Got a fresh and new idea, but do not know how to execute it? Contact me. (These can be commercial) (Commercial means, intended to make a profit)
Fangame Projects:
Enjoy something so much that you want your own game about it? Contact me. (These cannot be commercial)
Anime Projects:
Like an anime and want a game about that anime? Contact me. (These cannot be commercial) (Do not give me Zeta Rips, Bleach Rips, Naruto Rips, nor any of the kind)
On Any Genre:
Action, Adventure, Fighting, Racing, Turn-Based, Collectible Card Games, RPG, Strict-RPG, etc.
What Do You Mean My Project Have To Be Rebuilt?
Depending on the state of the project, I will consider rebuilding it from scratch using better methods that are good for the long-run.
If I do consider this, it means that the current project you have is not in the state to be maintained or edited by competent programmers and I will probably not be the only programmer who told you this.
Programmers who do accept to edit your code after I make a statement like this most likely do not know what they are doing, will make it worse, and will rob you blind.
It is also better to have a project properly rebuilt if its in a terrible state because not doing so will lead to it being more unstable.
How to Contact:
Email: DeviantCoder@live.com
DiscordApp: DeviantCoder#5287
Skype: DeviantProgrammer or DeviantCoder@live.com (Barely Active Here)
Byond Pager: Deviant Coder
Please if you may, refer to this ad when contacting me to let me know your intentions beforehand.
Payment
I accept payment by the week and the methods of payment will be discussed during the first conversation.