Five years ago I found a small, yet life changing, gem called BYOND. It gave me the opportunity to produce my dream game. But, I got fixed on what the people within this community thought of me. With that turn in the road, it turned my small endeavor into game development into a hectic and stressful situation. I then took small breaks and joined other communities, in which I have learned a lot about game design. But still, out of the five years I have been here, I have yet to actually create my "dream game". I can only hope that next year I will be able to accomplish such a daunting task.
About Me
I joined BYOND when I was fourteen years old, it was literally a dream come true. After using
The Game Factor
and
RPGMaker
, I wanted to create bigger game. These programs were great and I would not been here if it weren't for them, but I always felt limited, my real dream was to create an online game. November 28th, 2004, I used Google to search for something along the lines of an 'Online Game Maker'. I found a site which listed several game developing software, and then I came across BYOND. I was stunned that such a program existed, I hastily joined the community and from then on I have been creating games.
A Few Years of Using BYOND
Now, after a few years of using BYOND I had the motive of going into the field of programming. At the same time, I truly wanted to learn a language like C++ or C#; this would give me a clean slate to work on. In my opinion, I had earned the reputation of being a fairly incompetent programmer and I had the feeling that many people within the BYOND community despised me. So I bought several books which would help me on my endeavor. But as years passed on I realized that I was not fit for such a job or the task of learning a new language. Oddly, my dream job is being able to get a job within the Criminal Justice field, but I'll save that for another post. Along with that, creating games has and always will be a hobby of mine, I do not see it as excruciating work nor do I wish it to be.
Five Years Later: I Have Yet to Start on My Dream Game
I recently realized the reason as to why I have yet to finish a true game. For the past five years or so, nearly every game idea I've had has been based on another. I tend to find indie games that are particularly interesting. I feel as if the same concept would work on BYOND and then I begin to create something fairly similar. This is where my problem lied, once my excitement over the indie game vanished, I was left with a half completed game. But, there have been times where I did finish and release my poorly made clones:
Fortay
is closest to what I can consider to be a completed game of mine. It is vastly based off of
The Battle for Wesnoth
, which I was insanely obsessed with at the time. The truth is, I have never been too interested in the turn-based genre. I am not sure how Wesnoth grabbed my attention, but what I do know is now I can barely stand the game. So Fortay swiftly died.
To be honest, I never played Lode Wars until several people mentioned that my game,
Blubomb
, was fairly similar to it. But the truth is, I actually decided to work on such a game after reading tidbits on Hedgemistress'
Miner League
.
http://www.byond.com/members/CalusCoRPS/files/bbbattle3.PNG
But I was two years younger than I am now and obviously learned my lesson, or so you would think. A month ago I once again attempted to make a game reasonably similar to Miner League.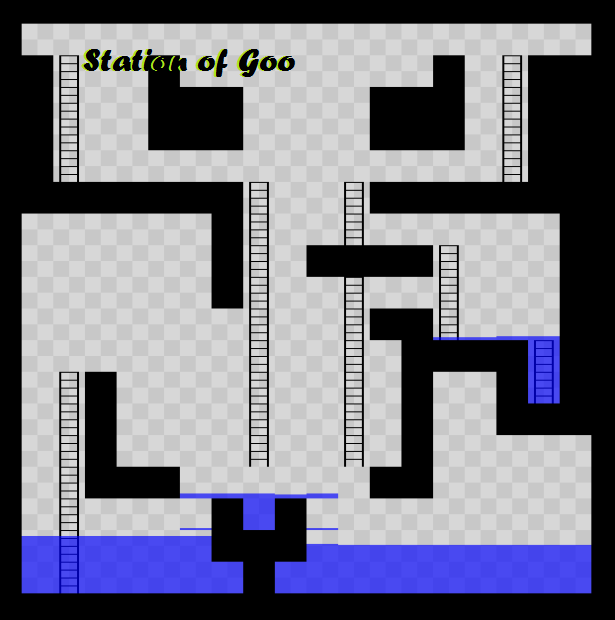 As with my other projects, once my interest in the original game died, so did my project. Thus, my recycle bin grew larger.
Infected Cell
was created after reading a ton of information about the, at the time, unreleased game, Left 4 Dead.
Along with frequently watching others play Resident Evil 4, I got hooked on zombie movies and quickly threw together a disgustingly programmed zombie game. Perhaps, that is why I never made an announcement about the game?
The Last Wizard
is yet another project of mine based on another game. This game was inspired by Richard Bartle's game,
Spell Binder
. I quickly created this game after several people from wiz_chat and I played several rounds of Spell Binder. The original game was decent, but I should not have swiftly decided that it would be an amazing idea to work on a game that is based on another. Obviously, Spell Binder was better in every shape and form.
Junk Metal
is heavily based off of Gerdan's
Bot Duel
.
(This is the PSP version, I don't have other pictures of it)
Although my memory is kind of fuzzy, I believe I most likely stopped frequently working on the game 2 months after its release. Maybe I should leave programming to people with talent?
Although not widely discussed, I was a huge fan of Space Station 13. Thus, I have created countless attempts that either tried to recreate Space Station 13, or a game fairly similar.
Deep Waters was my recent, and hopefully last, attempt.
LineWalk
is basically an over simplified version of
Line Rider
, which bores me.
I'm guessing I made LineWalk to prove to myself that I could create pixel movement with custom bounding boxes.
Last but not least, one of my recent, now deceased, projects was FortressBuild.
It is plain and simple, it is a poor attempt at bringing a game that was heavily played in Chatters,
MineCraft
, to BYOND. I soon lost all motivation to work on this project.
Conclusion
As you can see, my BYOND "career" thus far has been nothing significant. For years, I frowned at those who wanted to create games based on an Anime, when at the same time; I was doing something fairly similar, taking ideas that are not mine and bringing them to BYOND. It does upset me as I look back at my game developing career. I was a young kid with such big dreams; I had pages and pages of game design notes before I joined BYOND. My mind was set, I was going to create my dream game and no one could stop me. I had not prior experience with the internet, but I quickly learned my way around it. My grammar was a lot worse than it is now, but I joined the Chatters community in 2004 in which I noticed a subtle change in the way I acted online. I stayed with the Chatters community because it had users who were well known on BYOND. I wanted their respect; I wanted to be well known.
Although, I have only aged five years, I believe I have become wiser. Create a game that is your dream, ignore those who disapprove. You do not have to impress anyone within or outside of this community. At the end of the day, you want to feel as if you made the right choice. Years from now, you want to be able to look back at your game and feel as if you accomplished something significant, in
your own
opinion. You want to feel as if you accomplished what you came to BYOND to do, create your dream game. I only wish someone told me that from the beginning. Perhaps, I wouldn't have blatantly stole popular game ideas hoping to recreate them on BYOND.
To be honest, I no longer know what my original dream game is. But, let's just hope from here on I actually work on ideas that are mine.