Happy birthday to my cousin Eric who celebrated this week and is probably yet another family member who doesn't read this column. ;)
As for us BYOND folk...
The DDT team has given the source of Last Robot Standing to the BYOND staff along with their permission to provide updates. The Wiz-War homage should soon have a download available which will allow others to ignore the server problems that have plagued it over the years. Naturally, efforts are underway to fix those bugs. Likewise, a modern interface should be implemented.
Visions of the game deserving its popularity rank are dancing in my head while rants about nostalgia remain stillborn. Woohoo! =)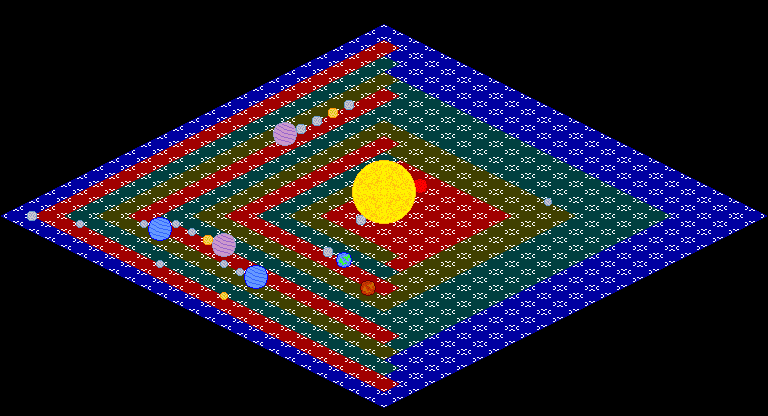 Acebloke's Spore-inspired Dreamland has shifted to an isometric perspective. Details of the world generation have been provided, updated and displayed in a demo available on the hub. Details of the game mechanics, however, seem scarce. Despite the aforementioned Spore influence, Acebloke's desire to create a multi-user dungeon means the game might become one of those dirty, dirty RPGs.
The results of September's AceMedalTable have also been posted.

Does using the adjective "tactical" a lot make an RPG a strategy RPG? I'm guessing not. Just in case, here's a link to Asellia's call for artists to work on a project called World of Selgaia. There's a possibility of making a tiny amount of money on the deal, but candidates probably shouldn't get their hopes up.
I've been working on the interfaces for each phase of my racing combat board game, StarScurrier. There's no pictures yet, but I think I'm finally satisfied. There have been a lot of drafts thrown out and I still have to work on the phases themselves. Some of the cards ("contracts") might be redesigned as well.

Sign the petition from the Electronic Consumers Association submitted along with their amicus brief in the case of Schwarzenegger v. EMA. Protect your gamer rights!