Thank you again to Tiberath and DarkCampainger. I'm still using my CRT, but I've been trying to keep the spirit of their donations by saving the money for computer repairs. My mouse has been dying for a week or two. I've been struggling with my Wacom tablet instead, but I'm not used to it and there isn't really any room for it on my desk. Fortunately, the package containing my new Microsoft SideWinder 3 just arrived. (I also got an adapter that lets me use my PlayStation controllers. They'll take some adjustment, but I'm hoping they'll provide an ergonomic alternative.)
...Remember when BYOND news made the bulk of this column?
IainPeregrine battled illness to deliver the results of this year's Game in a Day event. Ten people battled the time limit to submit their entries. Congratulations to D4RK3 54B3R on his first place victory. Jp's chess variant with base-racing and morphing pieces tied with F0lak's offering for second place. Meanwhile, SuperAntx entered what appears to be an RTS game called BitWars and Oasiscircle created a base defense game called Bear Barbarians after a personal challenge from IainPeregrine himself.
The game files have been uploaded. Attempts to nag Oasiscircle for game updates are forthcoming.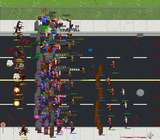 VcentG announced that Wyllshire Road will indeed be getting an update soon. Suggestions have been tossed around the horror defense game's Discuss tab after a request from co-owner Branks, but the nature of the update is undetermined. We'll likely see more content with an effort made to tell a story in later versions.

Jedhaury is looking for an artist and a programmer to help create a strategy RPG where players begin in medieval times, create a civilization and eventually colonize different galaxies. The game will be free to play and the compensation appears to match. Jedhaury himself hopes to contribute some programming.
I've been implementing phases in my racing combat board game, StarScurrier. The Move & Hire phase seems about done. Screenshots are included. I shall be changing one of the fonts to be more legible. (Thank you for the feedback, Dark Campainger.)
Hopefully, last week's offer to improve the interfaces of a few games wasn't viewed as insulting. Nobody took me up on it. I guess I'll be focusing on my own work for a while.

I've been waiting for ages to post a video of the time-traveling RTS Achron. Meanwhile, I find the simultaneous turns in Conquest intriguing.
Sign the petition from the Electronic Consumers Association submitted along with their amicus brief in the case of Schwarzenegger v. EMA. Protect your gamer rights!