...And, after a bit of filler, I'm back. Does it strike anyone else as strange that the guy writing a link digest column has digestive problems?
Acebloke has a new computer to host his games. The latest version of his featured abstract board game, Exploder, should be available to test soon. I'm anxious to see the new interface in action.
Barring connection problems, Wargames should be hosted in its economic/military simulation glory soon after. A map screen for easier targeting might be included. Likewise, positioning schools and hospitals might become more important.
Meanwhile, a wiki has been created for the Spore-inspired Dreamland.
Mobius Evalon's Board Game Chat is back in the guild after a brief removal. I don't know why I wasn't seeing a public server before, but there's been at least one running since the last Tech Tree. Meanwhile, the in-game log lists an update from October 18th. That means players have access to the recently added medals. =)

Vexonator is going to attempt to update the tactical fantasy Surreal Dreams before the end of the year. For reasons unmentioned, he claims that he will not be able to update again. Get your suggestions and bug reports in NOW!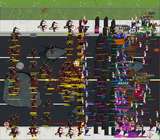 It appears VcentG will be working on Wyllshire Road solo from now on. The accompanying rant hints that the game's art could get an overhaul, but motivation appears low... Ya know, I probably wouldn't be linking to underage Halloween sluts and possible drama if I wasn't making up for a column. Screw you, pancreas!
An update has been released as I write this. Honestly, the interface appears big and bulky, but I suppose I should actually, you know, play to see if the space serves a function.

Continuing attempts to give BYOND Anime some mechanical variety outside of RPGs, Maximus_Alex2003 posted some design notes for an RTS within the Dragonball universe. There's at least one mechanic I find interesting. Characters could be purchased with resources, but each would be unique. Those owned by opponents could be killed and revived on one's own side. This stays true to the way franchise's characters get both wished back to life and possessed for dream matches.

NanayaZero is attempting to create a trading card game. It appears help with implementing card collecting, deck construction and battling would be appreciated. Fortunately, NanayaZero has some ideas to get the ball rolling. Unfortunately, nobody has replied to his thread... and I went into bookmark-blogger mode instead of offering my experience from PathWrath and Occupied Forces. *sigh*
It took my hospitalized pancreas and I longer then expected to implement the third phase of my racing combat board game, StarScurrier, but it's done. Players can now choose whether to spend energy attacking each other or save it for their shields. The post also discusses a mechanic used during the phases with simultaneous turns.

Sign the petition from the Electronic Consumers Association submitted along with their amicus brief in the case of Schwarzenegger v. EMA... Granted, it's a bit late now. Where was your concern before last week's dedicated digest? I've been displaying this banner since early July. You don't read this thing do you?