Here is a comic featuring three stick figures: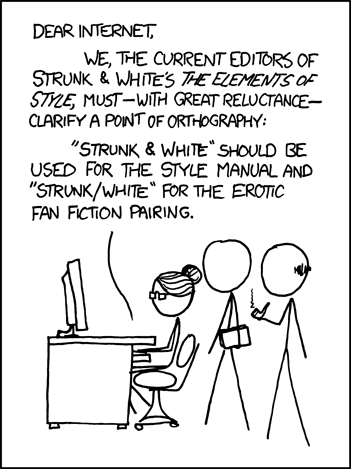 Source: xkcd
The one on the left is a woman, marked as such by a hairstyle associated with women. Less conclusively, she also has glasses that look like "librarian/granny style" glasses... another feminine trait.
The one on the right is a man, marked as such by a hairstyle (such as it is) associated with men. Like the glasses on the woman, he's holding a pipe... another tangential marker of manhood.
So what about the figure in the middle? When you saw the image, did you experience a moment of puzzlement? There are no indicators of hair, no gendered accessories... just a blank canvas in a stylized human shape, holding a book.
Once you've read the text and figured out what the tableau represents, you might assume that it's a man and the two gentlemen are Messrs. Strunk and White themselves... but chances are you didn't have to read the text for your brain to code both of the standing figures as male.
According to the conventions of xkcd and the larger societal conventions from which it's derived, we are expected to (and indeed, will) recognize the unmarked figure as male. What tells us that it is a male figure, exactly? The absence of anything marking it as female.
When we see a figure representing the human form standing in for a particular person, we're supposed to assume that anything not "marked" on it, anything not defined, is at the "default setting".
(There is an odd permutation of this default effect here, wherein the figure on the right has a tiny bit of hair to mark the fact that he's bald. The figure in the middle has no such marking, which means we're to understand that it has the "normal" amount of hair... essentially, Randall Munroe drew a bit of hair on one figure to show that it has less hair than the one figure he didn't draw any on. Weird, huh?)
Now, there are some very specific contexts in which human gender defaults to "female". I referenced one of these above when I mentioned librarians. Teachers, in most cases. Flight attendants. Nurses, except perhaps to fans of the current run of
Doctor Who
.
To invoke the object-oriented architecture of BYOND:
mob
     gender=

"male"


     woman
          gender=

"female"



People are male; women are a
special case
of people and must be declared.
What does this mean for people designing and playing games on BYOND? It means that a 32x32 (or similar sized icon) that conveys little more than the presence of a face, hair, and the standard arrangement of limbs is always going to have a
muuuuuuuch
easier job portraying "masculinity", the idea of manhood, the idea that one is looking at a male character, than it will with conveying a female character.
The traditional male body has secondary sexual markers every bit as distinct from an androgynous figure's as a woman's breasts and hips, but just like the "normal length hair" that Munroe didn't need to draw on the middle figure, no icon needs to show muscle development or body hair. Manliness is assumed from the fact that nothing says otherwise.
With all that in mind, here's part of a screen shot from RetroQuest:
Is that image a man? There's no indication of a typically male hairstyle. There's no stubble or body hair. There's no sign of masculine patterns of muscular development. One could say it is more likely male because it lacks the defining characteristics of a female body shape... but there's nothing especially male about its shape, either. The fact that the absence of femininity is taken as presence of masculinity is just that default in operation.
(As a side note: I specifically picked the weapon and companion based on what I thought would have the strongest "male" associations. It would be interesting to do a study with the same figure holding a bow and accompanied by a cat.)
The base icon is no more explicitly a man than it's a
white
man, or a right-handed white man, or a right-handed white man who is a shade under six feet tall... but that's how most viewers will tend to read it without even thinking about it even though (with the possible exception of handedness, though that's customizable) none of that is actually marked on it anywhere.
The fact is that the green splotch I'm using to represent PCs isn't particularly male or female. Players will have the opportunity to differentiate their appearance through the use of equipment to a far greater degree than this image shows, but the use of an undifferentiated base icon is my attempt to get people to think a little bit differently about how gender is represented.