Okay so we been getting somee stuff done...not everything though but at least we are progressing through the game. We have changed up the story line a bit though. Right now I am working on the monster's transformation line or like its age-ing thingy.
At the bottom you see the line i was talking about, and by the way these are the ones you have to pick between we might change them a little bit but later.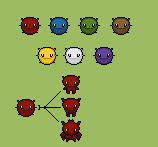 The top one is human like, the second on in the middle is a more beast like one and the bottom is reptile or like dragons For Me <3
Oh and lol the human one looks like stewie(or somthing) from family guy LOL.
The character and it's movement.
-It looks kinda funky i say but what do you think any type of criticism is allowed,
-and we are still looking for more people to help us msg me if you want to help. Or you can contact me or my partner at
[email protected]
(Me) and nat
[email protected]
(My partner).</3>