EDIT:
http://www.thespiritage.com
||
Hey guys! It has been way too long time since you last heard from me, so lets get on the same page regarding the Spirit Age;
Over the last few months we have spent the majority of our development time refining systems, adding a couple new features but primarily writing the lore which defines the world the Spirit Age is occurring in. We have always had a pretty vague idea and have been experimenting for a little over two years now, but laying certain things in stone create a true foundation to launch with.
We have also made some drastic changes, but naturally only with the best interest of the game at heart. One of our largest switches is a shift from the "over 100 players on server" goal (which I've realized I only followed because it was the standard on BYOND, not necessarily the best for the game) and have decided to design the game as a locally played RPG with optional multiplayer.
Making a change like this removes a lot of tasks which have slowed our progress, building an MMO versus an RPG are very different scenarios. Fortunately for us all, now we really get to focus on the gameplay and it's stories.
Don't get me wrong though, we would be crazy to drop multiplayer altogether, so instead we will be encouraging social gameplay in the Spirit Age, friends will be able to hop into servers together and play with one another, in the normal world or in a couple planned arcade-like modes which include dungeon diving and village wars.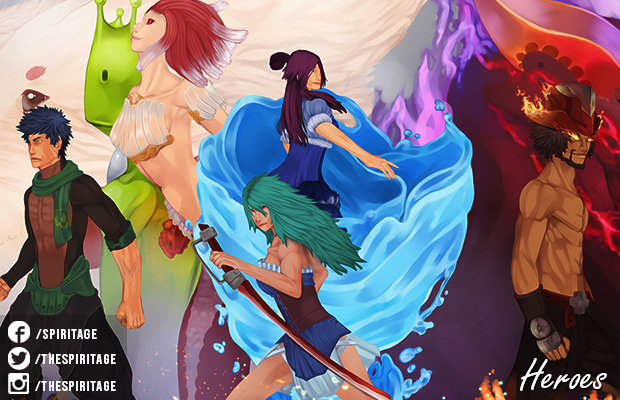 Sanji, Amelia, Emile & Galeo
The game's story is experienced through a band of heroes, a group of characters who have their own unique abilities & back stories. Multiplayer will only be limited to the number of heroes created, a group we hope we will continue to expand as Spirit Age matures.
So here's some even bigger news, we want to go to Kickstarter with the project. We've gladly invested a lot of time and resources and will continue to do so, however our pace has slowed tremendously.
"Faye" will be a hero available to kickstarters
I think we are just getting old, and the life-responsibilities have been pouring in. Much of the free time we once had is wrapped up in part time jobs plus college, I really want that to change, and I've been pushing to find a solution. We have plenty to show for our time developing, and to let the project suffer from packed schedules sucks for the team, demotivating even. So why not try? So that's something that is coming up very soon.
You guys have been with us for this journey, the ups & downs, and been the motivation for us to continue when otherwise seemed easier. I hope you like where we take the project and stick around for more.
The KS is all dolled up and submitted for review, and having gotten cleared by Tom we are 100% good to go, so look out for it
:)