Naruto will be the the 2nd anime ( after Dragon Ball/Z/GT ) and the last that I will watch with over 40 episodes. After such and impressive and unique start, for them to finish with this BS is just astonishing.
I can't even watch any more episodes. I should've quit when Balzack did, it probably would've made me feel better about the series. It's not even because of the fillers. In fact I would say the filler episodes are more interesting than the canon at this point. Let's recap what's happened.
The little stupid nerd in glasses Kabuto manages to revive all the strongest ninjas in history, including Madara, the most badass person in the entire series. Obito, another badass, gets raped by Black Zetsu of all characters. Naruto and Sasuke discard their rivalry which was the best rivalry in the series. It was nice seeing Team 7 reunited but Sasuke was way more likable when he was batshit crazy.
THIS is the Sasuke I want to see. The cold, criminal asshole Sasuke who ain't scared of no police.
And then Madara goes through his transformation, uses Infinite Tsukuyomi and sedates the entire world only to later on MORPH INTO SOME RANDOM RETARDED SPACE WITCH?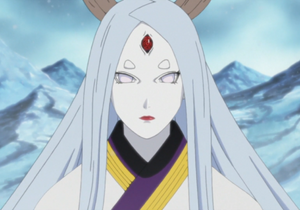 And the travesties still aren't over. Turns out, THIS GUY
SINGLE HANDEDLY DECEIVED THE ENTIRE NINJA WORLD USING THEM LIKE PUPPETS FOR SEVERAL HUNDRED YEARS WHICH SUCCESSFULLY LED TO THE REVIVAL OF KAGUYA. IF IT WASN'T FOR THIS ONE CHARACTER, MANY CRUCIAL EVENTS IN NARUTO WOULD'VE NEVER TAKEN PLACE AT ALL.
At this point I was just like "screw it, I've had enough of this", so instead of waiting for the episodes I just went on wikia and read the ending. It turns out Naruto and Sasuke rejoin each other ( after Kaguya whisks Sasuke away into another dimension ), they kick her ass, then she somehow turns into a GOD DAMN RABBIT MONSTER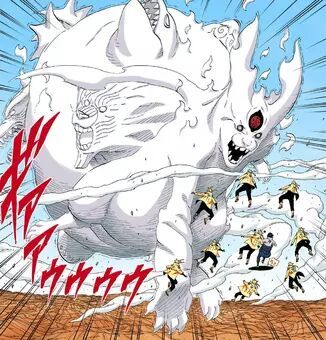 Before finally being overpowered and defeated. I honestly thought the rabbit thing was a joke. Some sort of fan-made drawing and made up story by a troll wikia editor. But no. This is the actual story. The whole damn thing boils down to a space witch who plummets to Earth, rules the planet, gets sealed away by her sons but farts out a black man who somehow manipulates most of the strongest ninjas to ever live so that the space witch can be reborn only to shapeshift into a demon rabbit with animal heads protruding out of its butt and eventually die again. That's Naruto explained in one sentence.
I would have to smoke weed laced with bath salts and unicorn tears in order to come up with a story line this stupid. Seriously, what is this shit? I never signed up for this. I wanted to see Sasuke kill Naruto and burn the Leaf Village to the ground, but no. What do I get? Some god damn tyrannical bunny princess from another galaxy who has an obsession with magical fruit trees. Absolutely unacceptable.