I watched an AMV a few days ago, and looked in the description to find out the name of the anime. It was called "ALDNOAH.ZERO". I headed straight for Crunchyroll.
I've watched the first half of the series. Meet Inaho Kaizuka, the main protagonist of ALDNOAH.ZERO.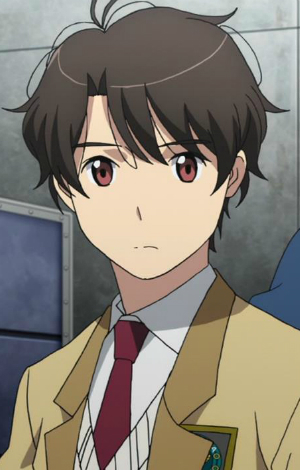 His facial expression 99% of the time.
Early on in the first episode, we get a taste of Inaho's character. He's apparently more responsible than his sister who is 6 years older than he is as seen when makes attempts to wake her up from oversleeping, cooks her breakfast, reminds her she's late for her drill instructor shift, and tells her to put the dirty dishes in the sink. Toward the end of the first episode, another major character, the Princess of Mars, visits Earth in order to establish peace and it's a big deal to everyone except Inaho. In fact, as the Princess is driven around nearby him and his friends, they show him staring down into his cell phone at an egg sale going on at a grocery store.
It gets better. As you can probably already guess, there was an assassination attempt, and the first to notice the impending danger is Inaho when he warns his friends a missile is coming.
This was his facial expression when he told his friends a missile was coming.
His "OH SHIT, OH SHIT, OH SHIT" face.
At this point I'm like "Ok, maybe he's a mentally disabled protagonist and that's why he had an unusual reaction to the missile. Maybe he didn't fully understand he could've died."
Moving on. In another episode, Inaho and friends are under attack by angry Martian men in giant robot suits. One of Inaho's closest friends was sucked away and murdered right in front of his eyes. This is Inaho's "my best friend is gone forever" expression.
Well, there goes my best friend. Such a shame. Anyway, back to this egg sale!
Contrast that to Goku's "my best friend is gone forever" expression.
That's better.
I can go all day about his face, but the larger point here to take note of is that Inaho is composed in nearly every situation. I can only recall 3 or 4 instances where he elevated his voice to portray a sense of urgency or scowled in frustration dealing with a difficult opponent. Just jot that down. "Inaho is immune to emotion."
Despite being a 15 year old student, Inaho is far more talented in every aspect of combat than his 21 year old sister who holds the rank of "Warrant Officer". He's actually so good when it comes to formulating strategies that everyone else stands by quietly as he tells them what to do, where to do it, and how. This includes the captain of the United Forces of Earth.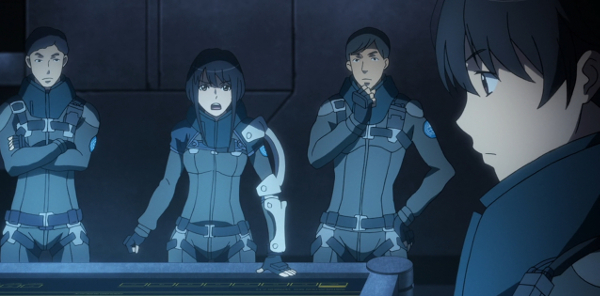 After like 3 episodes of joining the military, he's already being treated like a general.
Not only that, most of his proposed plans are things like "hit the brake even though a 20-foot tall death machine is chasing us", or "let's infiltrate the enemy base by launching an attack from the exact same position the enemy expects us to". And almost every time, the plan works. He's able to defeat high ranking Martians who have drastically superior weaponry with ease, finding and exploiting the weaknesses in their suits within minutes or calculating trajectories of bullets in seconds to shoot down enemies with pinpoint precision. No matter how reckless of a situation he gets himself into, he's able to duck and weave almost every bullet sent his way, come up with a tactic the enemy never saw coming, and execute it without fail.
Jot that down. "Inaho is a strategic and tactical mastermind and is nearly untouchable in battle."
Then finally towards the end of the first half of the series, Inaho FINALLY gets in over his head when dealing with one of the main antagonists. Inaho's rival, Slaine, then tells Inaho not to move another inch.
Don't you know who I am? I'M INAHO, BITCH!
Inaho grabs his gun and turns around in one last ditch effort to kill Slaine but is shot point blank in the head before he's able to fire. This was my reaction to that scene.
The first time I've ever watched an anime and rooted AGAINST the protagonist.
All is well in the world of ALDNOAH.ZERO at this point. Slaine, who is way more likable, triumphs over Inaho's god mode activated ass, gets promoted to a high ranking, negotiates with the main antagonist to have the Princess be rejuvenated in some healing tank, and I can finally watch this series and not be agitated.
Wait, what?
Oh yeah, sorry, I almost left the part out where
despite being shot in the head, he was somehow rescued and carried back to the ship where his lifeless body was able to reactivate the ship which then made it possible for him to receive medical treatment, the most significant change being this new robotic eye that makes him even more effective during fights than he was before, and can also pretty much read people's minds with it since it allows him to detect stress signals in voice tones to determine if someone is lying or not.
So let's recap.
Inaho Kaizuka is a 15 year old boy who
- Is immune to primitive human emotion and is always composed
- Is immensely brilliant and mature
- Is extremely courageous
- Is virtually impossible to defeat in combat
- Is virtually impossible to outsmart when it comes to strategy and tactics and can lead a military
- Is immune to a bullet through the head
- Is able to use the Aldnoah factor ( even when dead or unconscious ) despite that power only being reserved for those of a certain Martian bloodline
- Is now a cyborg with a robotic eye that serves to boost him to even higher levels of OPness
At this point, I'm convinced that even if the antagonists were to blow Inaho to a million pieces, he'd somehow miraculously regenerate all the particles of his body and return the next episode as an even stronger version of himself.
TL;DR
I'm aware that protagonists need to be, to some extent, better than other characters. I'm also aware that you can't kill off the main characters because then where does the story go from there. But come on, man. Even Goku got overpowered SOMETIMES. Even Ichigo had to sit SOME fights out. The issue is that you apparently can't stop Inaho any way you spin it. He'll pull some miracle out his ass at EVERY SINGLE TURN. Watching this anime feels like playing GTA with cheat codes. It's boring because you always know Inaho is going to show up and basically become God and bend reality to his will. This is retarded as hell.
I'm #TeamSlaine all the way.
The real hero of ALDNOAH.ZERO