Downloadable Server now hostable.


{:--News--:}

Dragonball Z: Last War- A new upcomming Dragonball Z game on BYOND is currently 35% complete

Click Here to check the hub out so far.

Dragonball Z:Extreme Revised is now a downloadable game you can download the files and run your own game and play when ever and however you want to.
Recent Updates

Added Guild House(Can be bought for 500k zenni)Requirments needed: 10mill Powerlevel

{:---Links---:}

BYOND MEMBERS WHO HAVE VOTED...


Teka123(* 11)
Slase
Chri93
Inferint Long
Meta_Shima
Diablohunter17
Dbgtsuperfreak
Karn990
Chelsea Dagger
Element88
Fancy Pants
Konnatsuu jin
LanceKakashi
SilentIggy
Great Mil3nco
SSJAlmuric
SaiyanDragoon




And that is it if you voted and i missed your name please post on the fourms your key that you did
!!!.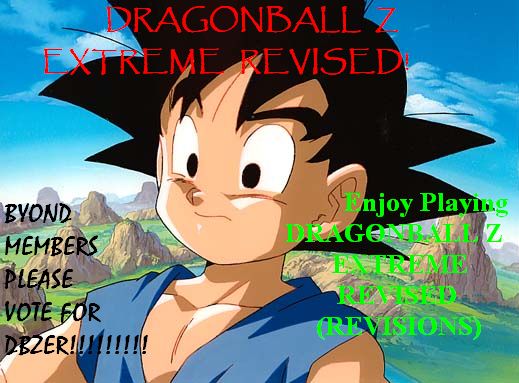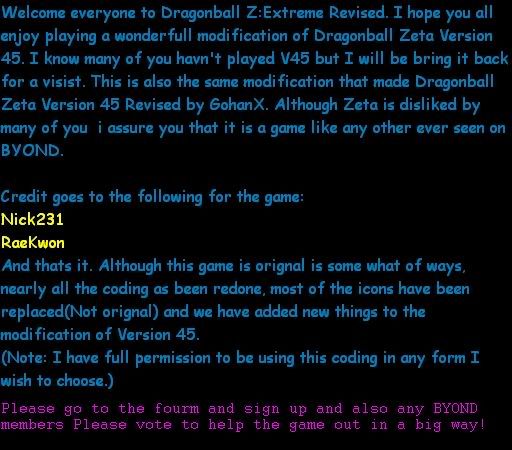 Counter Restarted on Friday, November 24th ,2006
Orignal Number on counter = 8945
Hope you Enjoy DBZER!!!


MAJOR UPDATES DONE!!!