I like this habit I've been developing of providing outside links. (Granted, they're mostly stolen from reading GameSetWatch and Gamasutra blogs.) I've thought about offering a separate column on BYOND Journalism, but then what would I do for cheap introductions? ;)
Alright, I'm sick of this. DDT's homage to Wiz-War, Last Robot Standing, has been killing connections when people try to enter the server. I've removed the game from the featured list. I think it's had enough chances. Bugs keep popping up, the interface is outdated and, most importantly, the developers aren't around to either care or improve the situation. This is for good this time.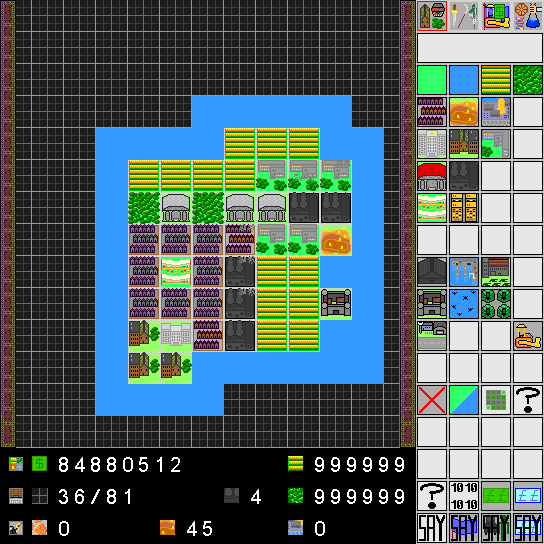 Acebloke released an update for his economic/military simulation, Wargames. With helpful feedback from Xeal, he also offered a patch and another is on the way. (The July results of the AceMedalTable are provided in that post as well.) I'm not even going to attempt to provide a summary of the improvements. The list is huge and it represents just a portion of the many years Acebloke has been working on the project.
Tsfreaks has resumed work on MRTS. The last update was in January. Changes have been made to the design, art assets (not pictured) and waypoint system. The mini-RTS supports up to four players and customizable AI. A list of links to previous updates has been provided.

Vexonator has released an update for his turn-based tactical fantasy, Surreal Dreams. There are few details, but he states that the focus was on fixing bugs. A content update could be available soon. Vexonator has been keeping the project active since he took it over from Kunark so check it out.

Over in the Facebook discussions, Gabe appears to be planning a massive space strategy game. The details are slim and vague. Players would start with one planet and have to take over the galaxy while spending their resources wisely. I don't know what Gabe's BYOND key is, but he's asking what others think.
I think developers should either do mass market research or create what they'd like to play themselves. Looking into forums for early reassurance probably isn't effective.

Ryando17 announced that he was planning to hold a tournament, but he wasn't sure which game would be involved. Fortay was in the running, but comments have led him to choose Ultimatum. Either way, it's a featured turn-based strategy game. Practice while you can. The date and time should be set soon.

Kingstone99 announced that he'll be holding a strategy game contest before the end of the summer. He could be hosting a server next weekend, but no time is set. Which game will be used has not been announced.
I uploaded yet another draft of the rules for my struggle over mining rights, Grim Prospects. Cards have been redesigned, extra cards have been added for keeping track of things and details have been added throughout the rules to clarify them. I'm hoping that the project is almost ready for The Game Crafter. Granted, I still want to do some more playtesting.
I also finished watching The Great Queen Seondeok. All 62 episodes... That counts for something, right?

Congratulations to Bytejacker on their 100th episode. Apparently, Tech Tree isn't the only web offering that doesn't mind celebrating so soon after its birthday. ;)
Sign the petition from the Electronic Consumers Association that will be submitted along with their amicus brief in the case of Schwarzenegger v. EMA. Protect your gamer rights!