BlockWorld

BlockHead in a BlockWorld!

[More]
To download this game for your Linux/Mac installation, enter this on your command line:
DreamDownload byond://Brettpenzer.BlockWorld##version=26
Emulator users, in the BYOND pager go to
File | Open Location
and enter this URL:
byond://Brettpenzer.BlockWorld##version=26
768 downloads
Version 0.14
| | |
| --- | --- |
| Date added: | Oct 21 2011 |
| Last updated: | Jul 10 2013 |
| Last played: | Aug 9 2014 |
17 fans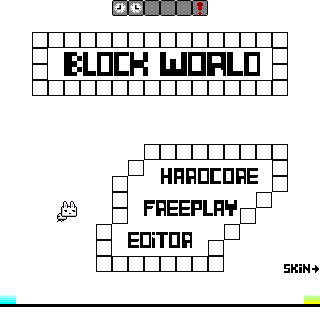 Only Windows users can play this game. If you have an emulator, you can join the waiting list to be informed when a new server is ready to play.

A Side-scrolling, Challenging, Puzzling Game with switchable worlds to conquer challenges

BlockHead is a normal guy living in a BlockWorld. big Head, small body, tiny legs and arms <3. together you've got to conquer BlockWorld with lots of puzzles and challenges across the way

Want to know more infomation or updates about BlockWorld please go to the [Discussion] tab


Welcome BlockHeads!

Earned by Drakost
Dec 31 2016, 4:48 pm


Change BlockHead

Earned by Slu123
Dec 4 2016, 11:31 am
Copyright © 2018 BYOND Software. All rights reserved.