Witches' Chess
To download this game for your Linux/Mac installation, enter this on your command line:
DreamDownload byond://DevourerOfSouls.WitchesChess##version=22
Emulator users, in the BYOND pager go to
File | Open Location
and enter this URL:
byond://DevourerOfSouls.WitchesChess##version=22
1806 downloads
Version A22
| | |
| --- | --- |
| Date added: | Oct 27 2009 |
| Last updated: | Feb 5 2011 |
| Last played: | Oct 22 2016 |
210 fans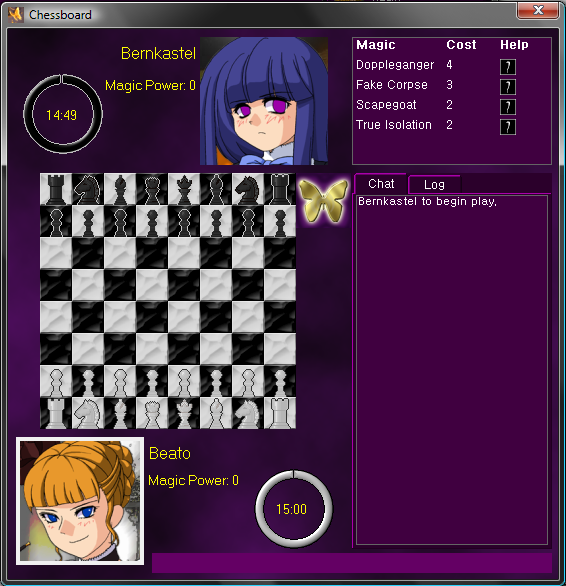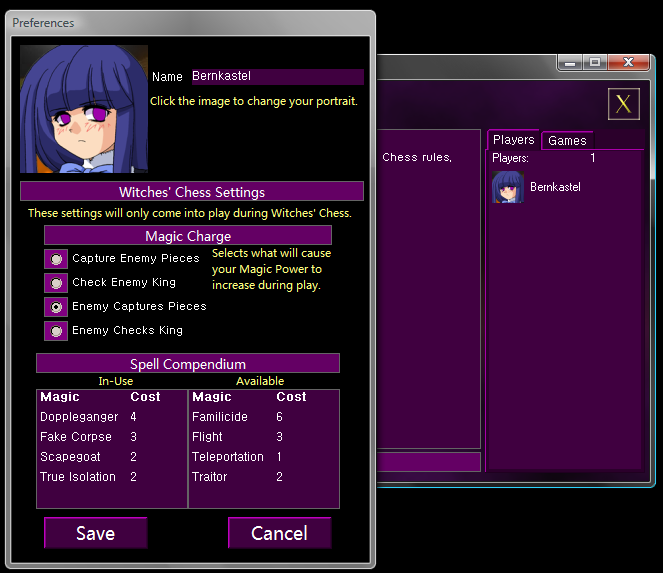 Only Windows users can play this game. If you have an emulator, you can join the waiting list to be informed when a new server is ready to play.

You have been humbly invited to take part in a multiplayer battle of wits against fellow humans in the popular fashion of Chess.

If normal Chess does not interest you, or if you are one of our honored Witch guests, you may instead take a short trip to the Witches' Domain, where things are not what they seem, and your opponents will use powerful spells to make you submit to them. Of course, use of your own magic is permitted, as well.

It would be an honor if you would join us and demonstrate your intellect and cunning.


Twisted Logic

Earned by Abyssal Gaze
Feb 28, 2:58 pm


That's My Horse

Earned by Anything86
Feb 28, 2:56 pm
Copyright © 2017 BYOND Software. All rights reserved.