Chat Client

Chat client that you can host.

[More]
To download this game for your Linux/Mac installation, enter this on your command line:
DreamDownload byond://FlareSilverBend.ChatClient##version=13
Emulator users, in the BYOND pager go to
File | Open Location
and enter this URL:
byond://FlareSilverBend.ChatClient##version=13
89 downloads
Version 0.3
| | |
| --- | --- |
| Date added: | Aug 30 2011 |
| Last updated: | Feb 3 2012 |
| Last played: | Jan 4 2014 |
3 fans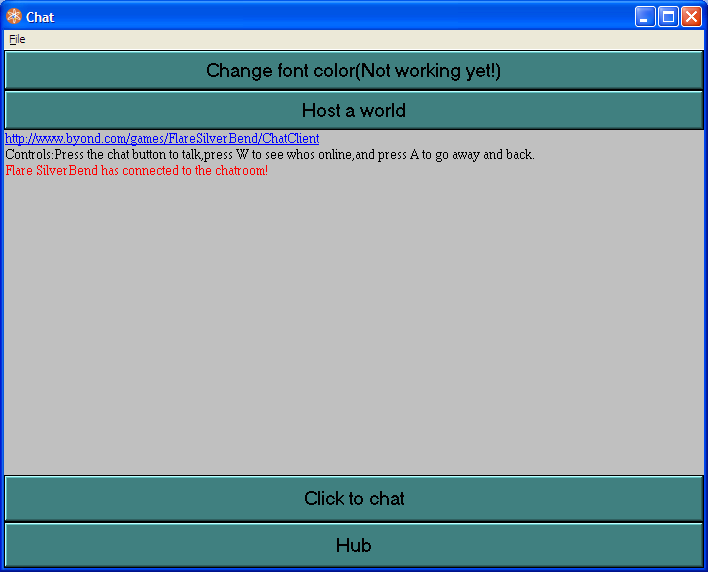 Only Windows users can play this game. If you have an emulator, you can join the waiting list to be informed when a new server is ready to play.

A downloadable,hostable,and simple chat client!Perfect for both private and public chat rooms.

Cool Features

Instead of having to search through two dozen verbs whenever you want to go afk or something,we have unique buttons and macros that are much easier to use(to go afk,all you have to do is press the A key).

All players can host their own chat room,and all hosts get host verbs.

You have full control over your hosted chat room(unless I ban you out of the game,which I will very rarely do)-no coded in admins!

Spamming,trolling,etc on any official server(of which we have none yet)will get you banned anywhere from three months to a lifetime key ban.

Chat Client version 0.3 released,coming with a built in text-rpg!
Copyright © 2016 BYOND Software. All rights reserved.