CQ: BYOND

A fast paced, casual, multi player action game with a little RPG touch

[More]
To download this game for your Linux/Mac installation, enter this on your command line:
DreamDownload byond://IainPeregrine.CasualQuest##version=40
Emulator users, in the BYOND pager go to
File | Open Location
and enter this URL:
byond://IainPeregrine.CasualQuest##version=40
7677 downloads
Version 1.40
| | |
| --- | --- |
| Date added: | Sep 18 2010 |
| Last updated: | Nov 17 2014 |
599 fans

[Bonus features]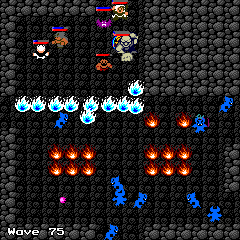 1 Game Live!

Only Windows users can play this game. If you are using an emulator, enter the URL for the game in File | Open Location on your BYOND pager menu.

byond://BYOND.world.1679335177 [Version 1.40]

No players.

Ahoy There! This is a legacy version of Casual Quest. If you are arriving here from Google, you probably want to go to AntlerPig.com instead. If you're a fan of the BYOND game, check out the current project here:

http://igg.me/at/casualquest

There's a huge improvement in graphics and audio, and a new story and character. Cheers!

---

Welcome back to the world of Illuna, a small young planet with a history of strife. In Casual Quest, you and up to four other players must defend yourselves from hoards of monsters, progressing to the next wave only when every one of them is defeated. Combat is action based, and waves go by quickly, so feel free to jump in for a few rounds on your coffee break, and then let someone else take your place when you leave. If you're in for the long haul, you can start at wave 1 and see if you can survive through 140 waves to recover all the royal treasures. Up for a challenge? Start at wave 60 and hope for the best! With 35 classes, addictive and challenging gameplay, and a casual social atmosphere, Casual Quest has something for everyone.

Subscription Benefits

New subscriptions have been re-enabled. Get access to all tier3 classes.

Other Benefits

In addition to rewarding subscribers, Casual Quest also has several exclusive classes for other types of subscribers:

BYOND members start with an upgraded Adventurer who has a shield and a healing skill.

Regressia

Subscribers start with a Hero who has a shield, higher than normal health, and a healing skill.

Hazordhu

Subscribers start with an orc with flaming arrows and an axe.

Contact IainPeregrine via the

forums

if you would like to add custom content for your group.


Queen's Emerald

Earned by ScareCrow3
Jan 5, 6:27 pm


Queen's Emerald

Earned by Dr4k0n3i
Jan 5, 6:27 pm
Copyright © 2017 BYOND Software. All rights reserved.