Plunder Gnome

Rugby with Radishes. Tackle gnome, steal their produce, run it home before they tackle you. Good times.

[More]
To download this game for your Linux/Mac installation, enter this on your command line:
DreamDownload byond://IainPeregrine.plundergnome##version=10
Emulator users, in the BYOND pager go to
File | Open Location
and enter this URL:
byond://IainPeregrine.plundergnome##version=10
741 downloads
Version 3.0 Beta
| | |
| --- | --- |
| Date added: | Sep 19 2006 |
| Last updated: | Feb 21 2018 |
| Last played: | Feb 22 |
62 fans

[Bonus features]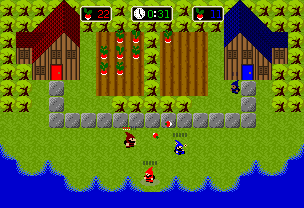 Only Windows users can play this game. If you have an emulator, you can join the waiting list to be informed when a new server is ready to play.

Like Rugby with Radishes. Tackle an opponent, grab their radishes, run them home, and defend your goal against anyone who'd plunder from it. Up to 12 people can play at once, and AI is included for single player mode. Highly addictive.

The original Plunder Gnome was made in 2006, and this is a rewrite of that game with new graphics, smoother controls, and better gameplay.



---



If you enjoy Plunder Gnome, consider buying a subscription. Instead of in-game perks, I'll program and release updates once we reach certain funding goals, like a crowd funding campaign.

Stretch Goals:
$25: Map Selection
$60: Music & Sound effects

Games that generate subscriptions get updates, and you help me create more BYOND games. Everybody wins :)

Enjoy, and let me know what you think!


Messing With Moles

Earned by Hydra521
Apr 11 2014, 12:14 pm


Brawler

Earned by Blue5472
Apr 11 2014, 12:14 pm
Copyright © 2022 BYOND Software. All rights reserved.