Naruto Attack: The Fate of Two Worlds

This game is specialized for fun

[More]
Currently Unavailable
Version 6
| | |
| --- | --- |
| Date added: | Nov 27 2009 |
| Last updated: | Aug 16 2015 |
| Last played: | Aug 16 2015 |
215 fans

[Bonus features]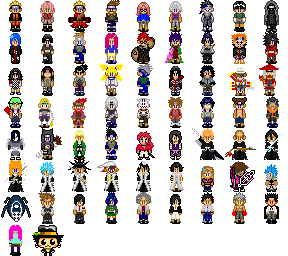 Only Windows users can play this game. If you have an emulator, you can join the waiting list to be informed when a new server is ready to play.

Naruto Attack: The Fate of Two Worlds

Credit to Reincarnation Inc

Updates: comming soon
-Bleach clans and soul society
-DBZ clans
-Reborn clans
-One piece clans
-New villages
(Soul Society,Lava, Heaven village and islandies)


Clash,Hack and slah other members as a sword type clan

1.Main Owner's-
ItachiRocks1

2.Co Owners-

3.Head Admin-

4.Admin -

5.GM-

Cities
-west city

Coder- ItachiRocks1

Iconner- ItachiRocks1

Mapper- ItachiRocks1

Hub designer- ItachiRocks1

Host - ItachiRocks1

Rules
1. Do not ask GM/ Co Owner for staff.
2. If you fight with a staff member you will be booted, if you continue when you log back in you will be banned for 5 minutes.
3. Only members get boost.


And the invincible fusion of all demons JUBI!

Demons
1tails-Shukkaku
2tails-Nibi
3tails-Sanbi
4tails-Yonbi
5tails-Gobi
6tails-Rokubi
7tails-Shichibi
8tails-Hachibi
9tails-Kyubbi
10tails-Jubi
CS

Village Kages
Leaf-
Mist-
Sand-
Rock-
Cloud-
Rain-
Moon-
Star-
Sound- ItachiRocks1
Sun-
Waterfall-
Grass-
Dark-
Snow-

Soul Society
Squad 1-
Squad 2-
Squad 3-
Squad 4-
Squad 5-
Squad 6-
Squad 7
Squad 8-
Squad 9-
Squad 10-
Squad 11-
Squad 12-
Squad 13-

Akatsuki
Leader-Tobi-
Co leader-Pein-
Co leader-Konan-
member-Zetsu-
member-kisame-
member-Itachi-
member-Diedara-
member-Hidan-
member-Kukuzu-
member-Sasori-
member-Orochimaru-

7sm
leader-
Co leader-
member-
member-
member-
member-
member-


Hebi
leader-Sasuke-
Co leader-Suigestu-
member-Karin-
member-Jugo-

Police force
leader--
Co leader-suaske-

SO
leader-
Co leader-

Org XII
Leader-Omie
Co leader-
member-
member-
member-
member-
member-
member-
member-
member-
member-
member-
member-
member-

Special thanks to ItachiRocks1 and all are staff that made this game, God bless their souls.
Copyright © 2023 BYOND Software. All rights reserved.