Shuriken Master

A sidescrolling action adventure game developped for S.D.Guild contest.

[More]
To download this game for your Linux/Mac installation, enter this on your command line:
DreamDownload byond://Megablaze.ShurikenMaster##version=3
Emulator users, in the BYOND pager go to
File | Open Location
and enter this URL:
byond://Megablaze.ShurikenMaster##version=3
1867 downloads
Version 1.01
| | |
| --- | --- |
| Date added: | Mar 11 2012 |
| Last updated: | Sep 23 2019 |
| Last played: | Nov 12 2019 |
57 fans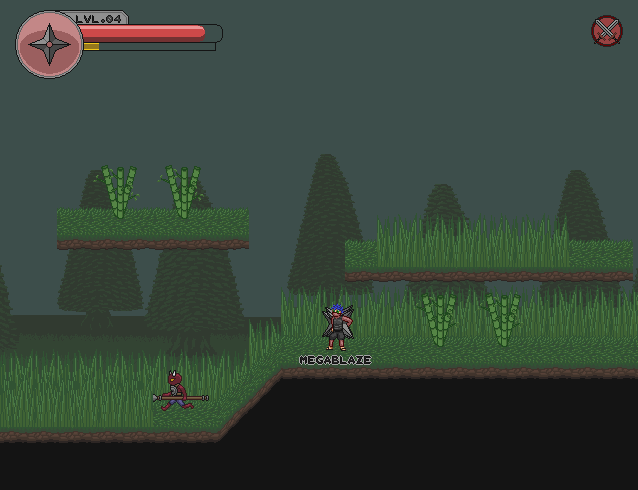 Only Windows users can play this game. If you have an emulator, you can join the waiting list to be informed when a new server is ready to play.




You play as a wandering ninja, whose goal is to become a master Shuriken user. Fight against demons, train against players, advance your skills until you've become a true Shuriken Master.



=======Controls=======
- Left/Right: Move Character
- Up/Down: Aim Shuriken
- "Z": Jump
- "X": Throw Shuriken
- "Enter": World Chat
- Click HUD: Open Upgrade Menu
========================



F.A.Q

Q: What does leveling do?
A: It gives you more health, fully heals you, strength, and some spirit.

Q: The game seems laggy can you fix this?
A: YOU can fix it, try using "Alternate Camera" under the Configure Menu.

Q: I got to the ending pretty quickly, now it's boring, why isn't there more to do?
A: This game was made in it's entirety in 2 weeks, if you want to see more content, make yourself heard in the discussion forum.

Q: I DID like this game, but the Shuriken alone can get a little boring, is there plans for new weapons in the future?
A: No. BUT, there is a single player game in development, so if you like this game, look forward to the full scale single player. The game noted above has been put aside for Pixel RPG which is being worked on.


Speedster

Earned by Envagyokazanyad
Feb 14 2016, 12:25 pm

Far Sight

Earned by Envagyokazanyad
Feb 14 2016, 12:08 pm
Copyright © 2023 BYOND Software. All rights reserved.