Chattie

Share files, code, pictures and music, play snake and hangman with your friends and ofcourse: chat!

[More]
To download this game for your Linux/Mac installation, enter this on your command line:
DreamDownload byond://Nielz.Chattie##version=118
Emulator users, in the BYOND pager go to
File | Open Location
and enter this URL:
byond://Nielz.Chattie##version=118
1156 downloads
Version 2.7.1
| | |
| --- | --- |
| Date added: | Jun 30 2011 |
| Last updated: | Nov 5 2015 |
| Last played: | May 22 2022 |
81 fans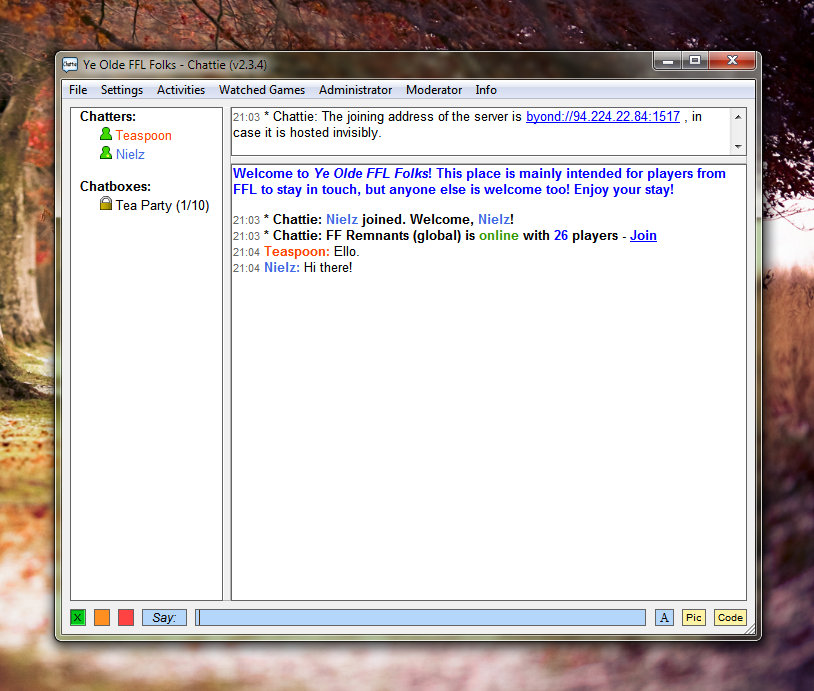 Only Windows users can play this game. If you have an emulator, you can join the waiting list to be informed when a new server is ready to play.

Chattie

is an easy-to-use chat client and server with a light interface, while still providing extended functionality.

Changelog

(last updated: August 14, 2015)

Key features and functionality:

- exporting and importing your personal settings;

- nicknames and nickname colors;

- customizable chat font and color;

- customizable window opacity/transparency;

- customizable personal window colors;

- customizable server default window colors;

- sharing custom window color presets with others;

- timestamps in chat;

- smilies in chat;

- private chat boxes with independent moderation options;

- sharing music, files, images and code;

- composing a list of allowed keys, and/or;

- password-protection for the server;

- custom message to be displayed with the password prompt;

- adding moderators;

- kicking, banning and muting;

- logging of public chatter;

- flood protection;

- client-side censoring;

- ignoring (client-side muting);

- whispering (sending private messages to other users);

- custom login/logout messages;

- a custom message of the day / greeting message;

- multi-player minigames: Hangman and Snake (experimental);

- utility for monitoring the status of other BYOND games, with notifications when games go live. (You must know the IP address and Port number of a game in order to add it to the monitoring system)

Also check out

Server Tool

, to minimize server downtime due to crashes and freezes.
Copyright © 2023 BYOND Software. All rights reserved.