Frontline Assault

A multiplayer war strategy game!

[More]
To download this game for your Linux/Mac installation, enter this on your command line:
DreamDownload byond://PopLava.FrontlineAssault##version=6
Emulator users, in the BYOND pager go to
File | Open Location
and enter this URL:
byond://PopLava.FrontlineAssault##version=6
55 downloads
Version 0.6
| | |
| --- | --- |
| Date added: | Sep 9 2012 |
| Last updated: | Jan 5 2021 |
| Last played: | Dec 28 2015 |
11 fans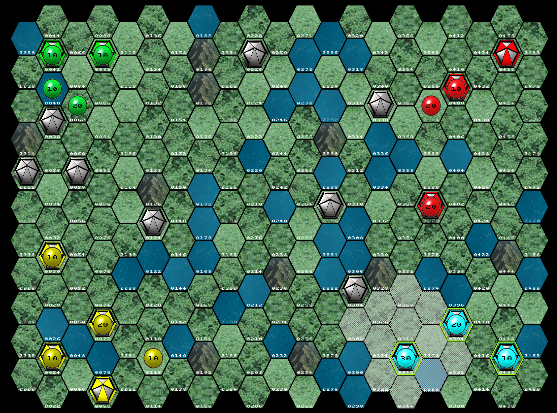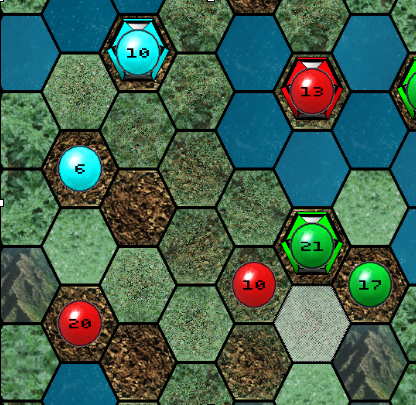 Only Windows users can play this game. If you have an emulator, you can join the waiting list to be informed when a new server is ready to play.

Frontline Assault is in the early stages of development. At present, it provides a basic risk-like experience where it's all about conquering all other players. Other players can be bots, humans, or both.

The server is always running so you can start up a game and wait for other players. Players can join your game and kick out the bots automatically making multi-player games easier to get going.

What's Next?
v0.6 - 1/28/2015
- Effectively remade the entire game by moving from city generation to territory generation. Primary goal was to just build up more hexagon based features.
- Added Mist Of War
- Added Supply Routes
- Added themes
- Added more map generation options (rough edges, impassable terrain, variable map sizes, and etc)
- Added ability to split units
- Added zoom in/out
- Added mute toggle
- Massive AI re-factor to support new game type


v0.5 - 10/20/2012
- Added terrain damage
- Added Host Options back in with all available options
- Added Help/About back in
- Added toggle mute
- Speed up attrition round
- Added Hover effects for buttons

Release History:
v0.4 - 10/18/2012
- Refactored the entire game to support server hosting and flash. Still a work in progress but the game can be hosted and played with default options.
- Players can choose to host or join an existing game.
- The few in-game hosting options the game has aren't hooked up yet.
- Came up with a new name (Hexawar)
- Started hosting Hexawar!

v0.3 - 9/16/2012
- Converted all interface buttons to map buttons (Flash Support)
- Converted all window dialogs to map dialogs (Flash Support)
- Added Attrition and Recruit counters as part of end round.

Notes: Conversions to all map support are 99% done. I've got one alert prompt left. Most of the work in this release was focused on functionality vs esthetics. I'd like to update all the dialogs and the counters in an upcoming release.

v0.2 - 09/11/2012
- Added in-map chat support
- Added player names, colors, and turn order to interface.
- Added host option to randomize unit generation. An owned but occupied city will generate 1d10 while an owned but unoccupied city will always generate 10 units.
- Added host option to enable random attrition based on terrain. Your chances for attrition grow when traveling over water and more so when going over mountains.

v0.1 - 09/9/2012
- Uploaded to BYOND.
- Play 1-4 human players or mix it up with AI players.




Copyright © 2022 BYOND Software. All rights reserved.