G.O.A.T.

Become the greatest of all time in this Halo-inspired goat shooter.

[More]
To download this game for your Linux/Mac installation, enter this on your command line:
DreamDownload byond://YutPut.GOAT##version=1
Emulator users, in the BYOND pager go to
File | Open Location
and enter this URL:
byond://YutPut.GOAT##version=1
224 downloads
Version 1
| | |
| --- | --- |
| Date added: | Sep 26 2015 |
| Last updated: | Apr 30 |
| Last played: | Jan 20 2018 |
17 fans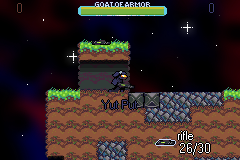 Only Windows users can play this game. If you have an emulator, you can join the waiting list to be informed when a new server is ready to play.

G.O.A.T. is a fast paced inspired shooter in which you play as a cybernetically enhanced Goat and battle for domination over broken space circles so that you may become the greatest of all time.

The first team to achieve ten kills is victorious. Use a wide arsenal of weapons to destroy your enemies. In order to play, just find an online server or host a game and have at least 2 people join the game.

As a goat, you can climb nearly vertical surfaces and deliver powerful kicks. Use your mobility to your advantage to outsmart other players.

This game is an experiment in combining elements of fighting games with a shooter. Described often as "super smash halo", G.O.A.T. can be played like a fighting game, a shooting game, or both.


Made in 24 hours for GIAD 2015 based on the themes The Pricker Patch Kids and Broken Circles. Original soundtrack, artwork, sound, programming, and design all done by Yut Put.
Copyright © 2020 BYOND Software. All rights reserved.