Gears & Peers

Crash bots. Collect their gears.

[More]
To download this game for your Linux/Mac installation, enter this on your command line:
DreamDownload byond://ACWraith.GearsPeers##version=3
Emulator users, in the BYOND pager go to
File | Open Location
and enter this URL:
byond://ACWraith.GearsPeers##version=3
658 downloads
Version 3
| | |
| --- | --- |
| Date added: | Dec 22 2008 |
| Last updated: | Apr 1 2015 |
| Last played: | Mar 16 2013 |
29 fans

[Bonus features]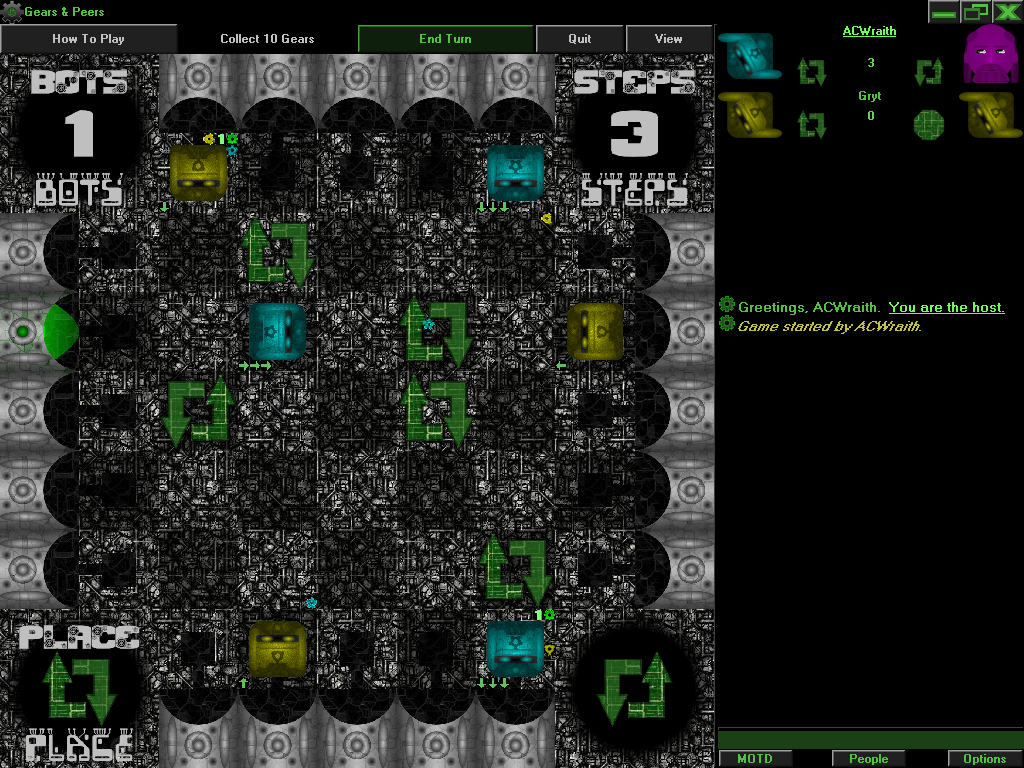 Only Windows users can play this game. If you have an emulator, you can join the waiting list to be informed when a new server is ready to play.

You can gain in-game benefits in Gears & Peers and other games through

Fooldom Come

!

This game has two modes. Both use simultaneous turns. The goal of one mode is to collect a set number of gears. In the other mode, players are eliminated when a set number of their gears are collected.

During a turn, players can:

Place bots.
Place a command module.*
Remove a command module.

Bots will move at the end of every turn. When they crash, matching gears are left behind. Those gears can be collected by other bots and are scored when the bots warp out.

*Command modules are chosen at the beginning of the game. Subscribers can choose their items manually. Non-subscribers will have them randomly assigned.
Copyright © 2023 BYOND Software. All rights reserved.