Sabre XI

This is another one of the XI series, this is a platform adventure in the beta stages. Join the battle.

[More]
To download this game for your Linux/Mac installation, enter this on your command line:
DreamDownload byond://FlameGuardian.SabreXII##version=44
Emulator users, in the BYOND pager go to
File | Open Location
and enter this URL:
byond://FlameGuardian.SabreXII##version=44
216 downloads
Version 0.9
| | |
| --- | --- |
| Date added: | Nov 24 2005 |
| Last updated: | Oct 26 2016 |
| Last played: | Oct 14 2017 |
24 fans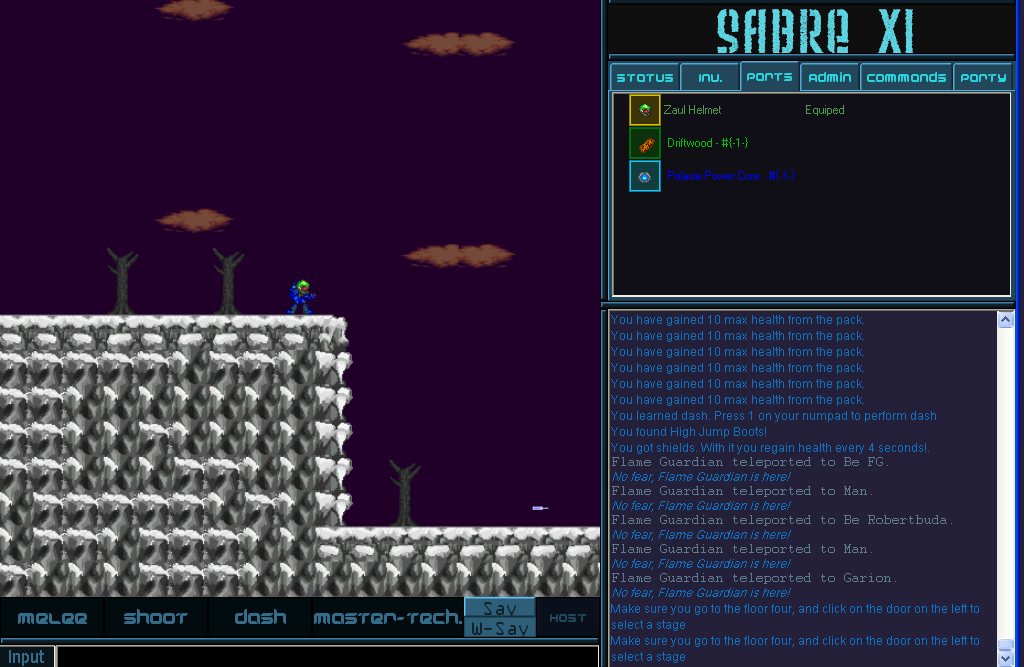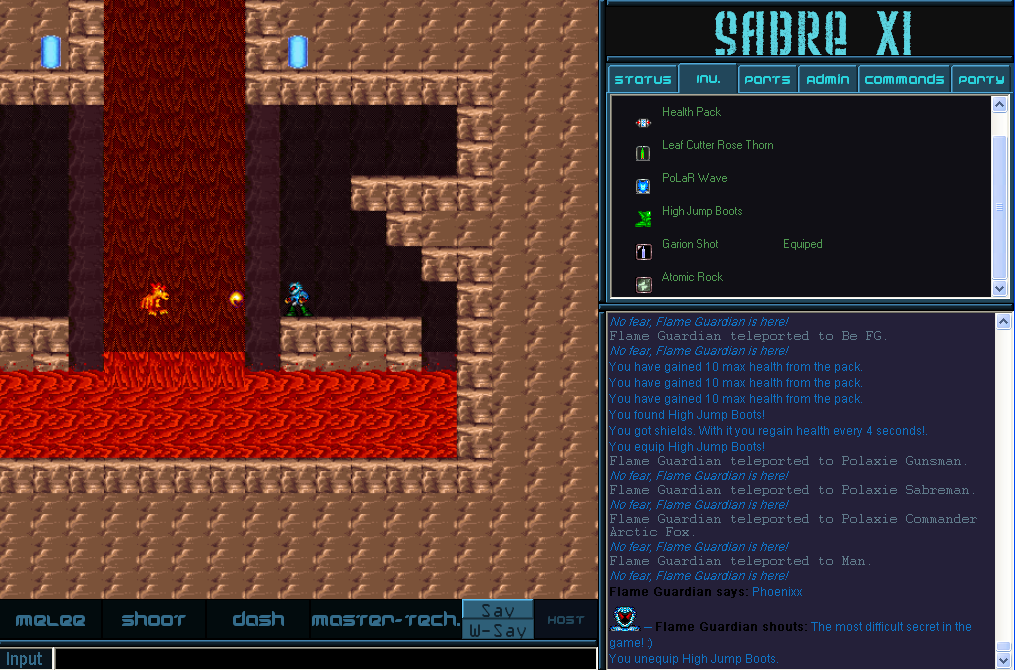 Only Windows users can play this game. If you have an emulator, you can join the waiting list to be informed when a new server is ready to play.


Staff
Flame Guardian - Owner
PoLaR XI - Assisted with some Pixel Art
Kingster - Assisted with Gravity



Character List


Sabre Users
Sabre - Excellent Sabre
Presea - Fast Sabre



Mana Cannon
Zon - Strong Mana Cannon
Isaixe - Double Shot
Caption Forcestis - Fast Mana Cannon



Duelists
Xiel -Weak mana cannon/average sabre
Aya -Ok sabre,Average mana cannnon

Updates
•New quests, new sprites for different objects.
•Bug fixes.
•MASTER TECHNIQUE/Level added.
•Minor Updates - Bug Fixes (Again)
•Party System (Get upgrades with a team !)
•Secret Boss'(Quests) - Use a party to beat them!
•Bug Fixes + New Upgrades + Stage 6
•Duelist - Mana Cannon Upgrades
•Arena + More Music + Sabre Upgrades
•NEW A.I for some boss', and all the enemies!
•Fixed up some graphics

Update information
No more updates. No source.

Special Thanks
•Shadowdarke - sd_Text
•Capcom - Various Sprites
Copyright © 2023 BYOND Software. All rights reserved.