Rabbit Doubt
To download this game for your Linux/Mac installation, enter this on your command line:
DreamDownload byond://YURIRAMOS.RabbitDoubt##version=0
Emulator users, in the BYOND pager go to
File | Open Location
and enter this URL:
byond://YURIRAMOS.RabbitDoubt##version=0
56 downloads
Version 0.1
| | |
| --- | --- |
| Date added: | Feb 2 2016 |
| Last updated: | Jul 4 2017 |
| Last played: | Feb 19 2016 |
7 fans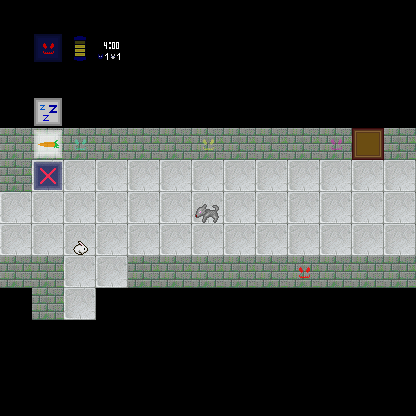 Only Windows users can play this game. If you have an emulator, you can join the waiting list to be informed when a new server is ready to play.

ENGLISH:

Rounds has five minutes, after 30 seconds a person is randomly chosen as the wolf, his goal is to kill all the rabbits, to counterattack the wolf, rabbits can throw carrots, who is hit 3 times a carrot dies, to take the carrots it is necessary to sleep up to 100% of energy, the less energy you have, the slower it gets, so it's good to sleep so well.

WASD / Arrows = Walk

Q / click on the icon = Transform into a wolf

E = Use Wolf perks

1 = Sleep

2 = Play carrot

3 = Devour rabbit

Wolf Perks

RED: Go through wall

BLUE: Turn off the ligh for rabbits

GREEN: hide in the box

YELLOW: Creates a fake wolf

PURPLE: Lock the door

LIGHT BLUE: Let all the slow rabbits

PORTUGUÊS:

Rodadas tem 5 minutos, após 30 segundos uma pessoa é aleatoriamente escolhida como lobo, o objetivo dela é matar todos os coelhos, para se defender do lobo, os coelhos podem jogar cenouras, quem for acertado 3 vezes por cenoura morre, para tirar as cenouras é necessário dormir até 100% de energia, quanto menos energia tiver, mais lento fica, então é bom dormir por isso também.

WASD/SETAS = Andar

Q/clicar no ícone = Transformar em lobo

E = Usar coisas do lobo

1 = Dormir

2 = Jogar cenoura

3 = Devorar

Elementos do lobo

VERMELHO: Atravessa parede

AZUL: Apaga a luz dos coelhos

VERDE: Esconde-se na caixa

AMARELO: Cria um lobo falso

ROXO: Trava uma porta

TURQUESA: Deixa todos os coelhos lentos
Copyright © 2023 BYOND Software. All rights reserved.