Bit 0
To download this game for your Linux/Mac installation, enter this on your command line:
DreamDownload byond://Fugsnarf.0bitAdventure##version=12
Emulator users, in the BYOND pager go to
File | Open Location
and enter this URL:
byond://Fugsnarf.0bitAdventure##version=12
335 downloads
Version 1.61
| | |
| --- | --- |
| Date added: | Dec 17 2012 |
| Last updated: | Jun 27 2013 |
| Last played: | Jun 27 2013 |
14 fans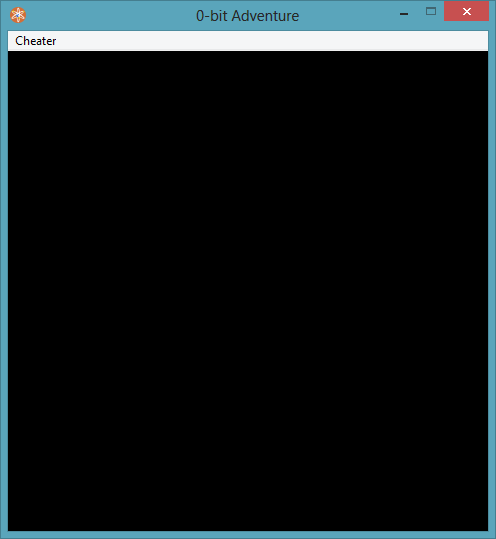 Can you help guide our 0-bit hero through his 0-bit world?

On a quest to find a world of color, our hero is trapped in a world which consists of only one: black. At the end of the tunnel is a portal to another dimension. There's just one problem, however -- he can't see anything and neither can you!

Use the power of your memory and hearing to guide our hero through. Everything makes a distinct sound effect: bumping into walls, moving to the square next to you, and beating the level.


Credit to Falcon lazorz for the level voice clips.
Credit to Keeth for the slogan.


The "Cheater" tab contains an option to enable text mode for a few moments. This allows you to get a peek at the map. You get 12 text mode cheats before running out. Good luck!

Version history:

0.2 - Added Medals for beating each level

0.4 - Lowered music sound

0.5 - Added Music tab to toggle music on and off

0.6 - Added Sound Effects Toggle option to Music tab

0.7 - Fixed a problem with cheaters cheating

1.0 - Added 9 more levels for a total of 12; included medals for each level. Also redid levels 1 through 3

1.2 - Added WASD movement

1.5 - Made the first three levels easier to teach the player and scale the difficulty. Also changed the cheater-text-mode's player text from "m" to "P".


Beat Level 1

Earned by Marekssj3
Sep 27 2018, 1:41 pm


Beat Level 1

Earned by Fangbonr
Aug 26 2017, 11:48 pm
Copyright © 2019 BYOND Software. All rights reserved.