Shaman King: Spirit Saga

An epic Shaman King Anime/Manga based game that you will surely enjoy. A great Shaman King spin-off, giving you the side story of Yoh as Shaman King.

[More]
Currently Unavailable
Version Closed Testing
| | |
| --- | --- |
| Date added: | Feb 28 2009 |
| Last updated: | May 31 2020 |
| Last played: | Sep 24 2012 |
215 fans

[Bonus features]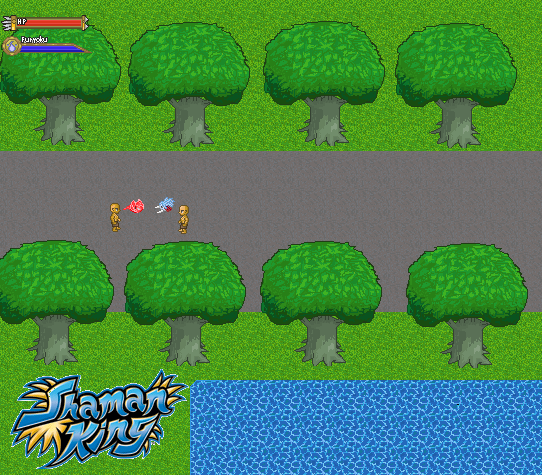 Only Windows users can play this game. If you have an emulator, you can join the waiting list to be informed when a new server is ready to play.

WE ARE MOVING!!!!!!!!!!
SHAMAN KING : SPIRIT SAGA TEAM


--------- OFFICIAL MEMBERS -----------

Game Owner

Leronx2(Owner/Idealist)

IAmWoIAm(Programmer)

Admin

Jmaddy

Credits to:

Chiisachan

The Game

Right now I am not exactly sure when the real release date will be, I'm hoping to finish the whole game soon and then test it a few times till a grand opening on whatever that date may be.

Also, for those whom wish to learn more about Shaman King you can check these sites...

http://www.shonenjump.com/mangatitles/sk/manga_sk.php http://en.wikipedia.org/wiki/Shaman_king http://shamanking.wikia.com/wiki/Shaman_King

People, information concerning the game is "

always

" found in the forums:

http://sk-online.proboards.com

before hand, so please go to the forum first for more information on the game and its release date.

Credits:

Tsugumi Ohba for ideas and concept for this game.

Special thanks to IAmWhoIAm for making this possible!!!

---

Servers

Now to explain to you further, there are three servers that will be hosted within this hub only unless we might change that or during special occasions.

1. Chat Server

This server is for questions and applications, mainly, but we are now giving direct links to news and updates. The chat server will be hosted only during situations such as this: waiting for the game to launch, or if there is maintenance going on. Any situation when the main server is not hosted, this server takes the place.

2. Private Server/Test Server

Simple as that, the private servers are servers created for testing purposes. Before we actually release the main server, all bugs will be tested within this server and updates. There will be two hosts that you should be aware of soon enough that will distinguish things from private to main. Also the private server is where a lot of the "fun" stuff is done; more into that will be discussed in the forum.

3. Main Server

The main server is known as the 'real' game, which provides everything you may find in the private server, but updated with bug free systems. Our testers and staff will make sure to check and update all non-working systems to keep the Main server responding well and efficient. The main server will be opened during events till whatever the date may be at the Grand Opening.

---

Support

Following the same lengths as most games, we do not and will not encourage anyone to vote for the game. Voting for the game is only encouraged by your liking, doing so will only receive an appreciation note through your forum account and having your name up on the forum's support list. Still, we do give out a few bonuses to those who join the BYOND membership; more into that will be discussed in the forum.

Contact Us:

If you think you can help contact me at

[email protected]

or leave a message on the game's forum

Join the Shaman King: Spirit Saga Community Today! Disclaimer:

We take no credit from this game however all of the icons are original thus ripping/copying of this game is STRICTLY prohibited! Caught of ripping/copying any source of this game means a report to BYOND Staff.

Copyright 2009-2010 Shaman King and Hiroyuki Takei. Shaman King: Spirit Saga All rights reserved.



Copyright © 2023 BYOND Software. All rights reserved.