Biocrisis

Chaotic zombie shooting action game.

[More]
To download this game for your Linux/Mac installation, enter this on your command line:
DreamDownload byond://Wanabe.Biocrisis##version=147
Emulator users, in the BYOND pager go to
File | Open Location
and enter this URL:
byond://Wanabe.Biocrisis##version=147
1954 downloads
Version 1.45
| | |
| --- | --- |
| Date added: | Jul 9 2006 |
| Last updated: | Aug 30 2016 |
689 fans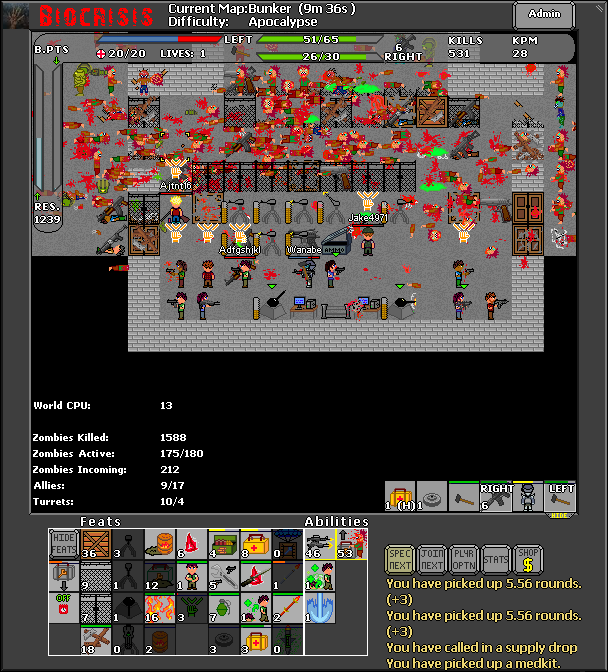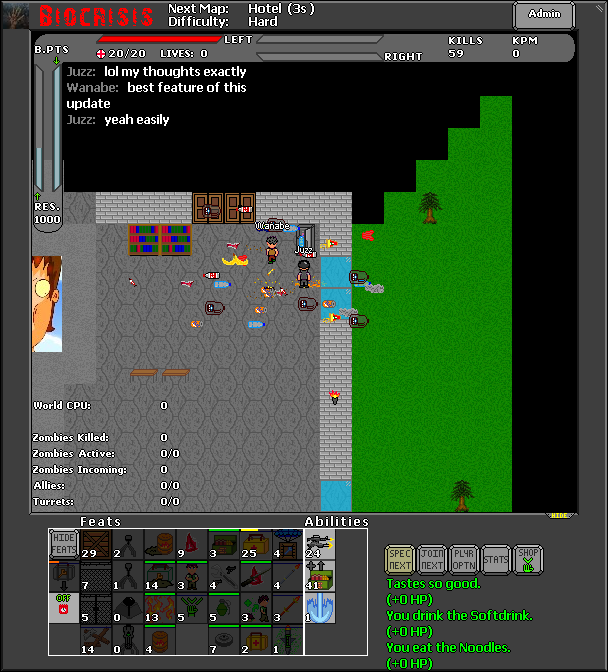 1 Game Live!

Only Windows users can play this game. If you are using an emulator, enter the URL for the game in File | Open Location on your BYOND pager menu.

byond://BYOND.world.92432145

[

Official Biocrisis Server

Difficulty: Hard. In lobby.

Version: 1.45. Players: 2/20

]

Logged in: 2 players

[See list]

Biocrisis is a zombie shooting action game. Help your fellow survivors stick it out in an urban or village environment that has hordes of zombies pouring in. Work together in defending your make-shift fort against overwhelming forces of the undead.

Information: Biocrisis Standalone Biocrisis Map Editing Files Click here to subscribe to this game for extra benefits! Check for update news and report bugs on the forums here. Features: - Feat system:

Players earn points which can be spent to unlock new abilities. Especially rewarding for veteran players.

- Building system:

Players can use collected/earned resources to build barricades, turrets and traps.

- Built in help file:

Clicking the "Help File" button opens a help file containing information about the game. Use it to learn controls, read about guns, feats and more.

- Stat recording system:

Track your stats such as average kills per game and compare with others.

- Flammable oil physics:

Explosives can ignite nearby oil and allows for some dangerous fire traps.

- Destructable environments:

Zombies will tear through barricades and walls to get to their prey, players can use explosives to blast open walls or break barricades in their path with melee.

- Byond member benefits:

Byond members can unlock more advanced feats and gain feat points 10% faster.

- Subscriber benefits:

Subscribers can unlock the most advanced feats and gain feat points 25% faster. (Stacks with Byond Member to 35%)

Compiled in dream maker 510


Prison Break

Earned by Amac284
6:58 pm


Shotgun Rookie

Earned by Krash127
6:40 pm
Copyright © 2017 BYOND Software. All rights reserved.