Pokémon Unnamed Version

DS-style turn-based battle system. Undergoing construction.

[More]
Currently Unavailable
Version Old
| | |
| --- | --- |
| Date added: | Jun 10 2013 |
| Last updated: | Mar 19 2020 |
| Last played: | Aug 28 2018 |
162 fans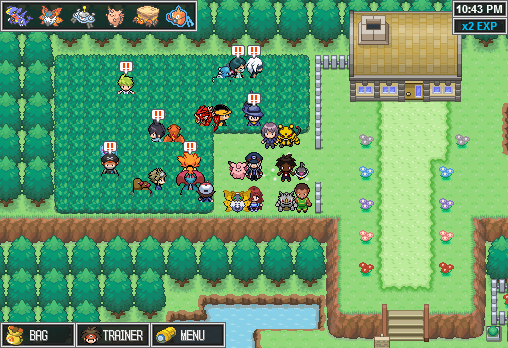 Only Windows users can play this game. If you have an emulator, you can join the waiting list to be informed when a new server is ready to play.

Discord channel: https://discord.gg/KY4cdJV

Hosting an old version of the game for a little bit so players may revisit their old Pokemon and reminisce. Current development has been on hiatus.

Game will be offline as I develop the Beta. Be sure to be part of the Discord if you want to be a Beta Tester once the time comes. Features:

All 807 Pokémon from Gen I to Gen VII. This includes forms and megas.

Complete turn-based battle system. PvE & PvP. You can spectate battles too.

Shiny Pokémon.

Mega Evolution.

Trading.

EVs/IVs/Natures.

Dozens of various held items.


Deviantart Credits:

-princess-phoenix

-Taragonia-Mix Tileset Credits

-WesleyFG

-KyleDove

-Noscium

-N-Kin

-Quanyails

-Gnomowladny

-zerudez

-Thegreatblaid

-ChaoticCherryCake

-WilsonScarloxy

-DonLawride

-SirAquakip

-Elazulmax

-pocketmonster98

-leparagon

-TheCynicalPoet

-Falgaia & Smogon Sun/Moon Sprite Project

Pokémon is Copyright © 1995-2019 Nintendo/Creatures Inc./GAME FREAK Inc.
Pokémon Unnamed Version is not affiliated with Nintendo, Creatures Inc. and GAME FREAK Inc.
Copyright © 2022 BYOND Software. All rights reserved.