Grim Prospects

A card battle over mining rights. (Digital version.)

[More]
To download this game for your Linux/Mac installation, enter this on your command line:
DreamDownload byond://ACWraith.GrimProspects##version=0
Emulator users, in the BYOND pager go to
File | Open Location
and enter this URL:
byond://ACWraith.GrimProspects##version=0
3 downloads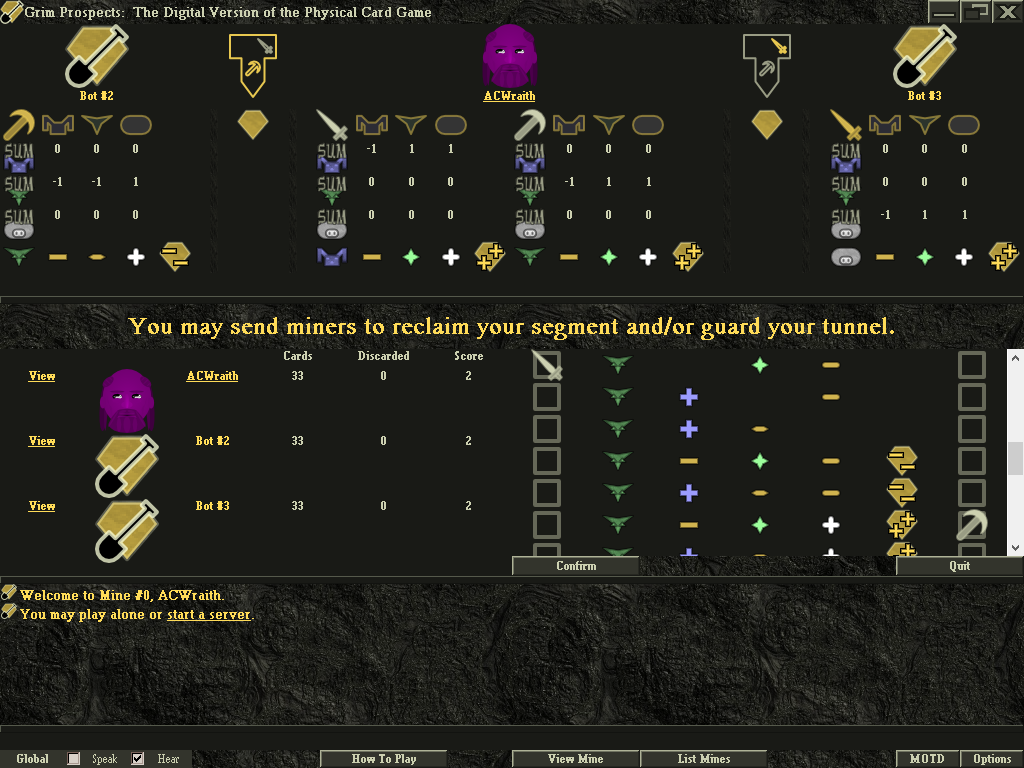 Only Windows users can play this game. If you have an emulator, you can join the waiting list to be informed when a new server is ready to play.

Grim Prospects is a 3-player card game (with bots) in testing before hopefully selling a physical version through The Game Crafter.

Use three factions of miners to dig a tunnel with the most value.

Discover who you will gain a tunnel segment from and who you will give a tunnel segment to. Next round they will swap roles!
Fire two workers. Send one to loiter around each opponent.
Send a tunnel segment to the assigned opponent. Choose either points or protection against a collapse.
Fight two battles. Send one worker to battle over each tunnel segment. Loitering workers will join the battle if their new owner plays a matching faction... whether your opponent wanted their help or not!
If you win the battle in the tunnel segment you gave away, the opponent's tunnel will collapse! The number of segments lost will depend on their order and composition. They might even be added to your own tunnel!

This game currently still honors

Grim Prospects: Classic

and

Fooldom Come

subscriptions with room creation abilities. Please understand that this may change in the future.
Copyright © 2023 BYOND Software. All rights reserved.