HuckDunt

A shoot the duck variation on a classic favorite

[More]
To download this game for your Linux/Mac installation, enter this on your command line:
DreamDownload byond://Tsfreaks.HuckDunt##version=3
Emulator users, in the BYOND pager go to
File | Open Location
and enter this URL:
byond://Tsfreaks.HuckDunt##version=3
109 downloads
Version 1.0
| | |
| --- | --- |
| Date added: | Sep 7 2010 |
| Last updated: | Sep 8 2010 |
1 fan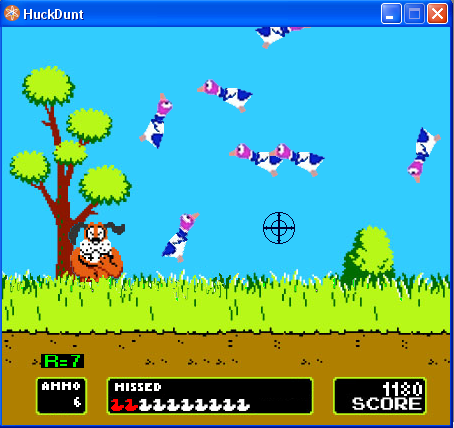 Just a quick little time waster shooter based on a variation of an old favorite classic.

Shoot as many ducks for as many rounds as you can. A highscore list awaits you.

The game was created in about 5 hours. It was intended to be a demonstration of shooting via mousepointer cross hairs. Obviously, a number of assets were plucked off a google search and modified. The original works belong to Nintendo Corp.

Game Play Tips
- The hit detection is challenging but once you get used to it, you can improve your score pretty quick.
- A perfect round awards you extra bullets.
- Shooting the dog awards points and a bullet.
- The game is about who can go the farthest before running out of ammo or letting too many ducks escape.
Copyright © 2022 BYOND Software. All rights reserved.